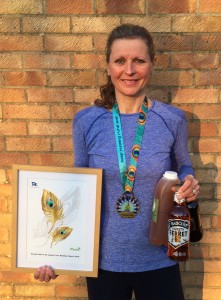 It was a busy Sunday for Romsey Road Runners last weekend.
Anna Duignan finished first in her age category at the Tempest 10, at Dunsfold Aerodrome in Surrey on Sunday. The aerodrome is the site of BBC's Top Gear Programme! Anna's chip time was 1:28:58 and her first place was all the more impressive given that the uppermost age category for women in this race was V55. Anna said, "The weather conditions were favourable, for a change, and as a road race I didn't miss the usual mud and water that we've been experiencing/enjoying recently on off road routes!" Anna was also 26th lady overall (out of 70).
Anna's daughter, Marie, is no longer in RRR but she also ran the 20 mile race coming 3rd lady out of 229, 2nd in age category, in a time of 2:25:18. Mummy was very proud!
At Larmer Tree Marathon Tam Ryan finished 2nd lady overall, in this rather tough, off road marathon, with a chip time of 3:56:19. The race is organised by White Star Running with several distance options and takes place in the beautiful surroundings of The Larmer Tree Gardens for the start/finish. A Rather tough off road marathon, weather conditions were perfect. Tam was also 34th overall.
Finally, in Devon, three RRRs ran in "The Grizzly" – a 20 mile run in Seaton. Mark was 27th of 1401 runners in 2:41:05. Sue Sleath (running for Hardley Runners) finished 144th in 3:02:39 and John Horton, on his way back after an operation at Christmas finished in 3:39:52.
Well done to all!