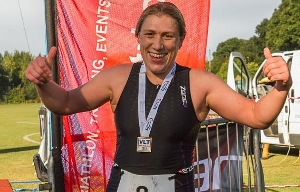 On Sunday 8 September, Six Romsey Road Runners entered the local Valley Leisure Triathlon (VLT), stretching the length of the Test Valley and organised by Valley Leisure. Participants completed 3 disciplines, including a 600m indoor swim at Andover Leisure Centre, a 30km cycle ride down the Valley of the River Test from Andover to The Rapids in Romsey, and a final run to the Knightwood Leisure Centre totalling 7.5 km.
The cycle ride was undulating following quiet lanes to the west of the river and the run was largely flat and on road, taking runners along Botley Road, through North Baddesley and onto Castle Lane. There was an unusually cold start to the day, with a downpour of rain on the undulating cycle ride making riding conditions difficult for some through the standing water, however the sun did appear on occasions for later riders.
First home for Romsey Road Runners and achieving first overall place in the Woman's category was Becky Tovey in a time of 1:51:05. Chris Stocks was the first Romsey man in a time of 2:03:55, which included the time taken for the extra 4 swim lengths he swam by mistake! He was followed by Alice Lane 2:07:48, Joanna Weguelin 2:09:46, Derek Kelly 2:11:06 and Julia Abab 2:21:40.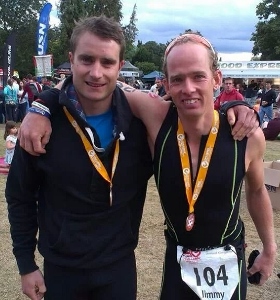 Jimmy Hunt was also competing but in Henley-on-Thames, taking on Challenge Henley – an 'Ironman' distance triathlon. Hunt, competing in his first Ironman, finished in a remarkable time of 10:45:45, finishing in 39th place out of a field of 356 competitors.
The triathlon consisted of a 3.8 km swim, a 112 mile bike ride and finished off with a run of marathon distance, 26.2 miles. Hunt's split times were impressive; the swim was completed in 1.21.50, followed by a cycle ride lasting nearly 6 hours (5.51.56) and to cap it off, Jimmy completed the marathon in 3:19:50. The marathon time alone is impressive, but as this followed two other disciplines back to back it showed great endurance.