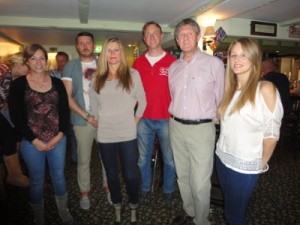 Romsey Road Runners gathered en masse to eat pasta and to wish this years participants in the London Marathon the very best of luck.
Over 50 club members gathered at the Sun Inn for copious amounts of pasta on Tuesday evening to assist fellow runners in  'carb' loading in preparation for Sundays London Marathon.
Six RRR will be taking part; some seasoned vets, others for the first time; all looked in great shape and were well prepared. We wish them well and hope they have a good run on the day.
David Nixon once again provided the cleverly thought out questions to the Pasta Party Quiz which was won by the (brilliant) Fuzzy Duck team.