On 21st May, 28 RRR took place in the third RR10 of the season. The Men fielded two teams finishing 4th and 14th while the Women fielded four teams finishing 6th, 13th, 25th and 37th.
RRR male finishers: 3rd Matt Hammerton, 6th Paul Cardy, 25th Andrew Proctor, 30th Toby Burrows, 32nd Neil Jennings, 33rd Ian Ralph, 37th Christopher Brown, 53th Tony King, 84th Jade Rolfe, 117th John Quayle, 147th Stuart Cripps, 154th Andrew Archibald, 202nd Greg Roulston, 205th Dave Page.
RRR female finishers: 11th Tamatha Ryan, 15th Rebecca Marriner, 25th Hannah Hunt, 27th Jo Weguelin, 39th Becky Tovey, 52nd Penny Jennings, 53th Alice Lane, 69th Julia Abab, 107th Naomi Farrington, 110th Deborah Rees, 116th Ruth Page, 118th Linda Webb, 119th Julie Shanker, 149th Wendy Couper.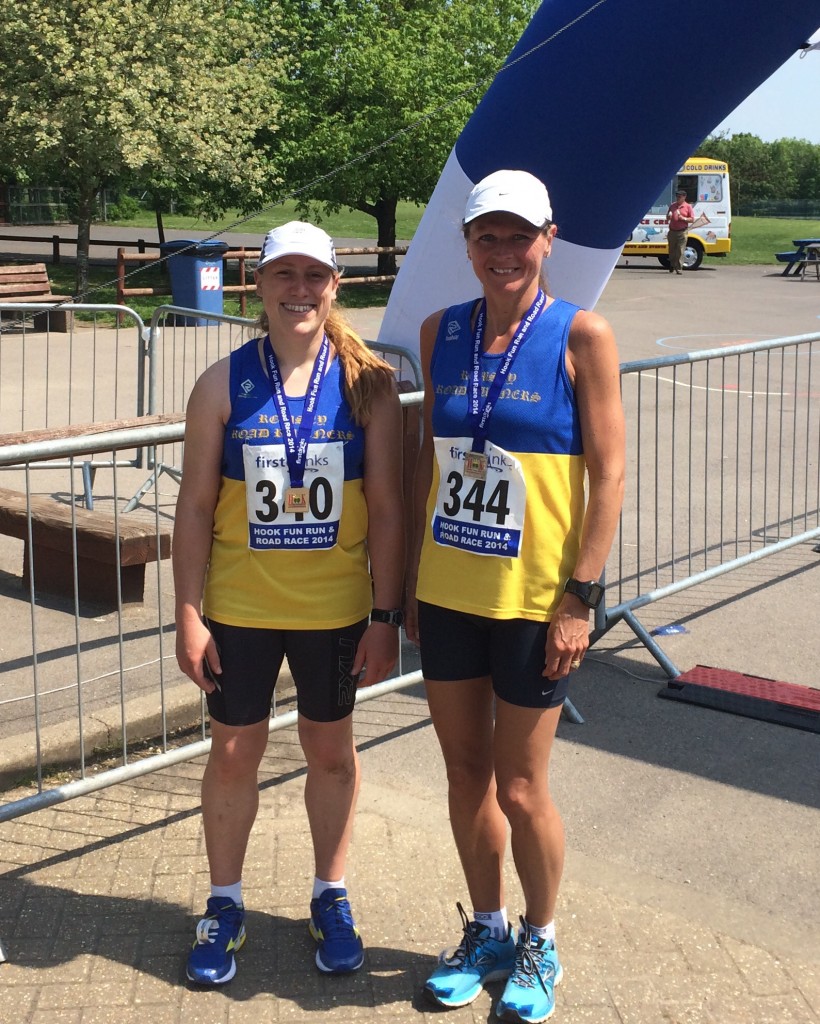 Becky Tovey and Tam Ryan ran in the warm sunshine to complete the Hook 10 road race. A flat road race, which was well organised took runners through lanes in and around the village of Hook, North Hampshire. Tam finished 5th lady in 1:12:40 and Becky came in as 15th lady in 1:18:22.
The pair, on a roll, took part in the Windlesham Pairs 10km Relay. Organised by Windle Valley runners, a mass of 186 runners competed in this inaugural event. Teams – male, female or mixed, young and slightly older – took it in turns to complete a 1km undulating loop until the 10km distance had been completed. Team Ryan and Tovey were the 3rd ladies home in a time of 41:13 and 37th overall out of 93 teams. Nearly non-stop saxophone music provided runners with inspiration whilst tea, coffee and cakes at the finish rounded off a pleasant evening.
In May, RRR Duncan Walling took part in the Ox Ultra Marathon in Wiltshire, organised by White Star Running. Advertised as one of the UK's toughest and longest marathons, it included a hilly off road route through King John's royal hunting ground of Cranborne Chase. In his first ever Ultra, Walling finished the 37.6 miles in a time of 7:55:05; 35th out of a total of 75 finishers. Afterwards Walling said, 'It was my first marathon let alone my first ultra and, with hindsight, was perhaps a bit far as I'm still a little stiff. But it was great fun, an amazing location and weather.'