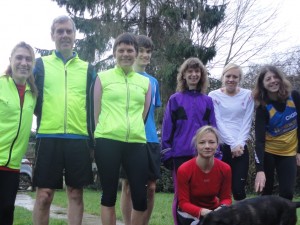 With a lack of 'formal races' over the festive period, Romsey Runners took to the rural trails and paths locally to run off any excesses and stay fit.
Christmas Eve saw RRR head for the village of Mottisfont and scenic off road 5 mile circular route through the lands and grounds in the ownership of the National Trust. There were many flooded stretches of the route near to the River Test to deal with and amused farm animals gazed on with disbelief and runners waded past up to their knees in standing water. Warm mulled wine, hot tea and mince pies greeted runners on their return, thanks to social host, Alice Lane.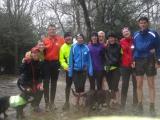 A hardy bunch of runners turned up in the pouring rain for a second social run on New Year's Day. This time, the run took place in the New Forest starting at Acres Down. It was a circular off road route using gravel forest tracks and was just long enough to feel smug about being out on New Years morning in the wind and rain, but short enough not to cause any real suffering. And if the excitement of the run wasn't enough, the rain had caused surface waters to rise sufficiently to make getting through the ford and out onto the road impossible by car! Had it not been for a friendly local in Acres Down Farm Shop and guided access through the forestry commission land we might all still be there – so many thanks!