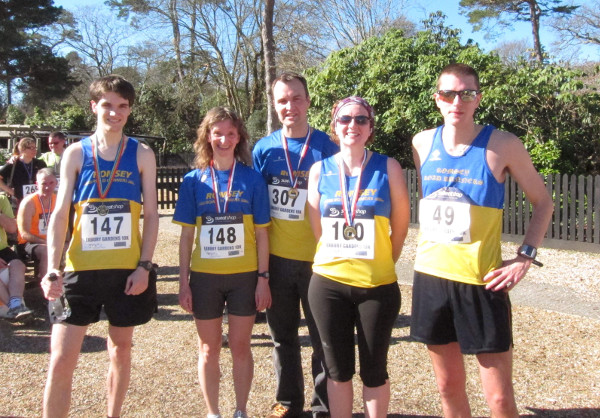 The Exbury 10k became the 'Exbury 5' for this year's participants. This picturesque New Forest event, starting and finishing in Exbury Gardens, was cut short this year owing to the disappearance in part of the foreshore path. The path, along Lepe Beach, had suffered some erosion in recent heavy rains forcing race organisers to change the route. This part of the course is not a favourite with runners, with its energy sapping shingle and on-shore breezes, so I don't expect the runners really objected!
Romsey Runners had two men in the top ten, finishing 3rd and 7th respectively. The ladies were equally pleased with their times.
RRR finishers:
Toby Burrows, 30:10, 3rd overall
Neil Jennings, 31:06, 7th overall
Duncan Walling, 34:07
Penny Jennings, 38:08
Naomi Farrington, 49:38
Tam Ryan and daughter Rio completed their last long run before the London Marathon. Both ladies were among the 465 finishers of the Cranleigh 21. Organised by the fabulously named, 'Cranleigh Tortoise and Hare Runners', the Cranleigh 21 draws a number of spring marathon runners from all around the South East. Many use it as an indication of performance and to gain valuable experience for their big day. The route is a series of pleasant long loops along the quite lanes of the Surrey countryside. There are a couple of long gradual inclines on route and a sharp sting just before the finish to test those tired legs.
Tam had a good run, managing yet another personal best. Finishing in 2:33:18 as 7th Lady, 2nd in age category.
Rio had a tougher run though, getting cramp in her calf at the 12 mile mark and finishing in 3:18:41.