Three Romsey Road Runners headed off to the Gower for the second event in Endurance Life's Coastal Trail series 2014/5 on 15th November. Despite an overcast, chilly start, the sun came out over the glorious South Wales coastline – the first area in Britain to be designated an Area of Outstanding National Beauty.
The course led over bogs and beaches, through sand dunes and up sharp ascents – with more than 2,300ft of climbing in the half marathon alone – with rocky descents. The scenery was stunning, the route crossing Rhossili Down, passing through Llangennith village and with views over Worm's Head.
It was a successful day for the club, Becks Marriner was the second woman home in the Marathon in a time of 5:05:43. Jo Weguelin was the first Romsey runner home in the Half Marathon – and 175th overall – in 2:24:48, while Di Cross finished in 2:39:37; second in her age category.
'These are wonderful races taking in some of Britain's most attractive coastline. Highly recommended,' said Di.
Closer to home, 4 RRR's did Gosport Half Marathon on Sunday 16th November. Heavy rain stopped just as runners had to take off their warm clothing and prepare to start the race, luck was on their side!
This year marked a new course for the Gosport Half; consisting of two flat laps along the seafront at Lee-on-the-Solent. The outward leg was mainly run on cycle-paths and pavement, the return leg, more exposed along the Esplanade. Plenty of fresh air and views of the sea to enjoy, winds were slight, making for good finishing times.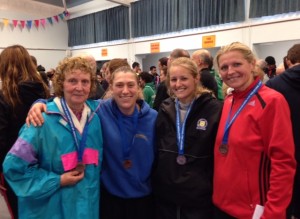 RRR finishers:
Tamatha Ryan 1:33:09 (PB)
Rio Brookes-Gibbs 1:50:11 (PB)
Brenda Topliss 1:51:00 (1st in age category)
Becky Tovey 1:54:46