The annual Great South Run attracted a total of 6 Romsey Runners amongst the thousands taking part. This large event involves a circular route around Southsea and Portsmouth, finishing with a 2 mile stretch along the sea front, where the winds pick up and drafting behind a statuesque runner is an attractive option!
Duncan Walling  1:10:54
Alice Lane  1:28:37
Jonathan Northy  1:29:17
Alison Solomon 1:33:14
Lindsey Dunford  1:43:03
Linda Webb 1:49:24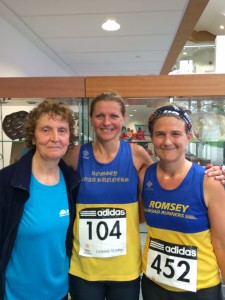 An all lady trio completed the Lordshill 10mile on Sunday 2nd November.
This popular event is organised by Lordshill Road Runners and takes place around the lanes and streets of Nursling, Hillyfields, Lee and the Broadlands Estate starting and finishing at 5 Acres, Redbridge Lane, Southampton.
Heavy rain Saturday night made for a very wet course but thankfully for the participants the rain stopped for the race.  Pleasant running conditions were experienced, assisted by the usually mild morning, delivering personal bests for Tam and Alice and 'best for age' for Brenda. Well done ladies.
Tamatha Ryan 1:09:14,  PB
Brenda Topliss 1:23:56, 1st in age category
Alice Lane 1:27:07 PB (speeding up from the GSR by a minute and a half!)