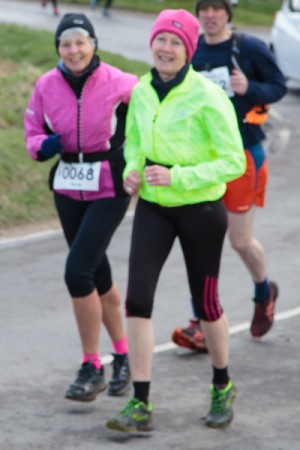 The duo of Anna Duignan and Wendy Couper took part in the Endurance Life event at Birling Gap in Sussex located at the extremities of the South Downs National Park.
Couper said, 'it is a stunning venue starting at finishing at Birling Gap, which was severely damaged during the recent storms. The route offered views of the Seven Sisters and included a very windy climb up Beachy Head.  We did the 10km which actually measured 7.7 miles.  The conditions were fortunately dry and we somehow managed to escape a hail storm.'
Anna completed the course, rated as strenuous, in 1:42 and Wendy in 1:50.
This event is one of a series of 10 coastal trails organised throughout the winter. They are all off road and are rated 1-5, 5 being extreme and 1 easy.  All the events come highly recommended by participants, offering runners dramatic scenery, views of the coast and lashings of sea air.
Eastleigh 10k report will follow next week.