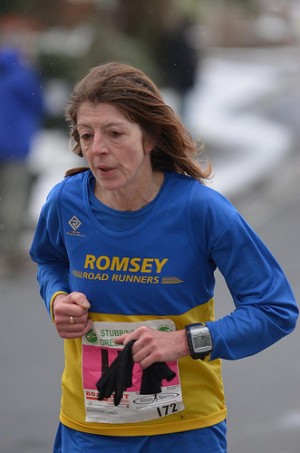 Sunday 20th January saw the Stubbington 10k take place, a popular local road race. Snow showers and freezing temperatures didn't stop the race going ahead and a hardy field of 1,212 runners competed. The majority of the course was closed to traffic and took runners through the village of Titchfield and down to the breezy Solent coastline. Conditions underfoot were surprisingly good and free of snow.
Four Romsey runners took part: First was Ian Ralph 40:45, followed by Steve Reed in 43:22, Romsey's only lady representative, Di Cross, finished in 45:34 (PB), and Stewart Liesnham in 49:10.
Romsey's own 5 mile running event took place in the picturesque Broadlands Estate on Sunday 27th January. The race was supported by many local runners, with 12 from RRR participating. The course is flat and fast; although runners were slightly hampered by the strong winds on the day, which otherwise provided mild and dry conditions for running. The course includes 3 laps of the Broadlands Estate – 2 short laps and the 3rd including an out and back stretching further into the estate. Runners are provided with glimpses of one another as they completed their laps. First Romsey man home was Jimmy Hunt in under 30 mins and Amanda Hull first lady and put in a fine performance finishing 3rd lady overall.
Romsey's finishers: Jimmy Hunt 29:11; Amanda Hull 30:29; Steve Reed  34:05; Wayne Windebank 34:56; Hannah White 36:12; Paul Bradley 38:14; Chris Stocks 41:21; Alice Lane 42:02; Alison Solonmon 44:08; Jo Weguelin 44:09; Helen Wheelwright 46:20; Dave Evenden 48:31.