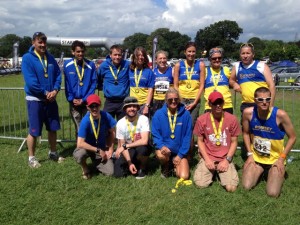 A total of 13 Romsey Road Runners travelled to Catton Park, Staffordshire, for the Thunder Run 24 hour event on the weekend of 27th July and 28th July.
The TR24 course is a 10km cross-country circuit set in the picturesque Staffordshire countryside. The track twists and turns across varied terrain from bogs and forests to steep hills and open fields. Individuals or teams run laps over a 24 hour period to see just how many they can complete – demonstrating endurance or just plain madness?
RRR entered a mixed team of 5 consisting of Toby Burrows, Matt Hammerton, Jimmy Hunt, Ian Ralph and Tam Ryan. All finishing 6 laps (60km) except Burrows who did 70km, starting and finishing for the team. A live leader board was discovered early on, showing the Romsey team of 5 in the lead; the pressure was then on to stay there for the duration.
The race started at 12 midday when the weather was really hot and sunny, but by early evening the heavens opened and a monsoon coupled with thunder and lightening ensued until dawn. Continue reading "Results Roundup" »