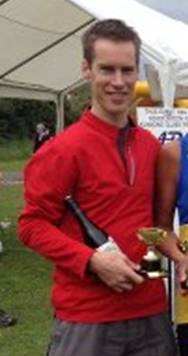 Five Romsey Road Runners headed to Portsmouth last Sunday for the Victory 5, hosted by Portsmouth Athletics Club. Arriving in sunshine, the sky had clouded over before runners started the five mile race with a lap of the running track at Mountbatten Leisure Centre. From here, the course headed out alongside the lake before looping round and then heading back, by which time runners faced a strong head wind. The course finished as it began, with a 400m lap of the running track.
Chris Stocks was the first Romsey runner to finish, placed 189th overall and 19th in category (MV45) in a time of 35:22. Lynda Brown came in next in 35:38, a personal best, 197th overall and 13th in category (Senior Female). Mark Adams, still recovering from injury – and not helped by a collision with a bike in the final mile – came in alongside Lynda in 198th (35:36). They were followed by Di Cross, who ran a personal best in 38:33 and was pleased to be placed 2nd in category (FV50). The final finisher for the club was new member Kirsty Saxton, who had a good run to finish in 41:44.
In contrast to the smooth surfaces of Portsmouth, The Bounder sees runners scurry across the undulations of the lovely Test Valley and is described as 'challenging'. This nine mile trail race, organised by the Broughton Bounders Running Club, is now in its third year and attracts a good many local runners including four from Romsey.
Matt 'The Bounder' Hammerton won the race for a third consecutive year, finishing in 54:12, a little outside the course record which he set in 2012. Fellow Romsey runner, Toby Burrows, finished in second place in 59:58. Becky Tovey and Naomi Farrington completed the Romsey contingent in 1 hour 21 and 1 hour 50 respectively.
Finally, Chris Stocks was on a roll this the weekend, completing the Eastleigh Park Run (5km) on Saturday in a personal best of 21:51, using it as a warm up for the Victory 5 miler.