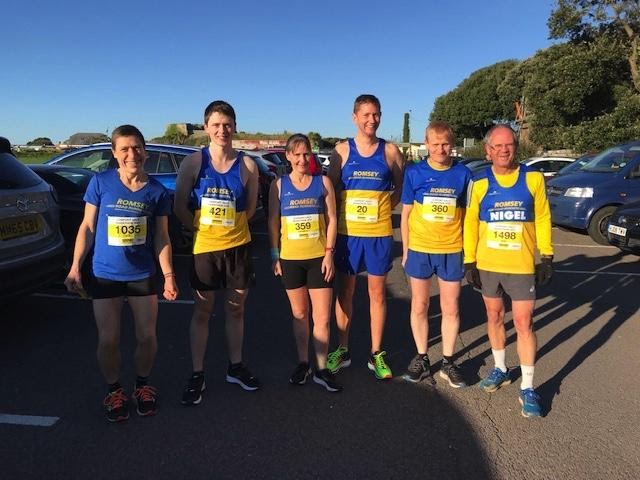 Romsey Road Runners were out in force for the Gosport half marathon on November 21st. This local race is popular with running clubs because the flat route has good PB (personal best) potential. But even with a flat route, weather conditions on the day can make a big difference to a runner's time, and while November 21st dawned sunny and bright, it was also windy. Despite this, Romsey proved their mettle with four club members clocking up new half marathon PBs.
Elizabeth Prinsep set a new PB of 1:35 to come second in age, despite her feet being numb from the cold; Keith Morris knocked two minutes off his previous best set earlier this year to finish in 1:42; Louise Holliday achieved a hard won new PB of 2:09, despite her head "not being in the right place at all. I almost stopped after the first lap so I was particularly amazed and pleased with my time at the end!", and Tim Parker completed the set by achieving an impressive new time of 1:24.
Andy Brown, who is training for the Malaga marathon in December, paced Elizabeth round, completing the run with her in 1:35, while Alex Prinsep finished in an impressive time of 1:20 despite running in to a headwind on the final stretch. Nigel Hemsted came home in 1:41; Becky Tovey in 1:28 (netting herself a qualifier for the Chester Elite marathon along the way); Alice Lane in 1:59 and Susie Parker in 1:54. Susie, who had had Covid only three weeks previously, said of the race: "it was fantastic to run alongside the sea against a backdrop of beach huts. The organisers and marshals couldn't have been more supportive."
The previous weekend saw Sue Sleath in action at the Test Way Ultra. This is a very different race to the flat roads of Gosport, with forty or fifty mile options of hilly, point to point trails. Sue, who is an experienced ultra-runner, finished the forty-mile run in a time of 6:54 hours to take second place lady in what she described as "the short route".