A number of RRRs took part in this season's Lakeside 5km series. This 5k sprint series is run at Hilsea Lido, Portsmouth on Wednesday evenings, over the summer. The final race took place on 27th August.
Tam Ryan completed 4 out of the 5 races. "After a frustrating first race and a disastrous final one, I managed to get my time down to 20:34, which is a personal best," said Tam.
In the fourth race Tam came in as 3rd lady winning her age category in the overall series.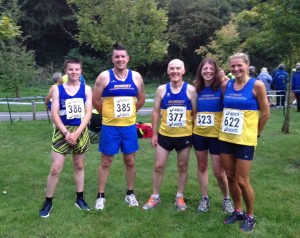 The Lakeside 5k series saw a number of other RRRs participating, with an especially large turn out at the last one.
Completing the final race for Romsey were: Jade Rolfe 20:17, Wayne Windebank 20:57, Paul Burnage 21:06, Tam Ryan 21:22, John Quayle 21:44 and Di Cross 24:39.