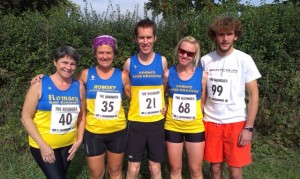 Six RRR's took part in the Broughton Bounder on Sunday morning, in the 4th annual staging of this local running event. The Bounder is a 9 mile trail event held over the undulating landscape of the Test Valley and includes over 300 metres of ascent. Runners start with a stiff climb out of the village before tackling a mix of rolling chalklands and several hills, which afforded long distance views in the clear conditions.
Matt Hammerton, previous winner of the event, just missed out to fellow RRR Peter Baksh. Both runners ran a close race throughout but Peter was able to kick ahead of Matt and hold a lead over the final half mile. At the finish just seconds separated the two. The battling performances of Baksh and Hammerton awarded RRR with the team prize for the 4th year running.
Individual Results
Peter Baksh 54:36
Matt Hammerton 54:45
Steve Reed 1:11:54
Jo Weguelin 1:22:09
Alice Lane 1:33:35
Charlotte Maslen 1:41:44
The winter CC6 events are about to commence, and anyone interested in taking part is welcomed to join RRR and participate.
Held through the winter, these low-key local cross-country races take place once a month at 9.30am on Sunday mornings, between October and March. Distances are between 4 and 5 miles and are run off-road; expect to get muddy feet! There is no need to enter in advance, just turn up on the day in a RRR club vest and run. Each club takes it in turn to co-host.
CC6 Fixtures
12 October – Fleming Park, Eastleigh
9 November – Dibden Enclosure, New Forest
23 November – Kings Garn Gutter, Stoney Cross (Romsey & Halterworth hosting)
14 December – Janesmoor Pond, Stoney Cross
11 January – Badger Farm, Winchester
15 February – Denny Wood, New Forest
1 March – Wilverley, New Forest
New members are very welcome.