Saturday 13th September marked the annual Test Way Relay event. Runners from a variety of local clubs challenged themselves to be first get from Inkpen Beacon to Totton in a total of 8 legs. Romsey entered a mixed team and was placed 5th out of 14 teams in a total time of 5:50:24. This was despite last minute changes to the team due to injury. Thanks to Alice who stepped in last minute to run the first leg.
The team consisted of: Alice Lane 39:48, Becky Tovey 32:59, Becks Marriner 1:01:30, Wayne Windebank 35:27, Hannah Shutt 40:23, Sarah White 45:45 Christopher Brown 41:39 Daniel Lurcock 52:53.
Two RRRs took part in the 8th Annual Hursley 10k on Sunday 21st September. This is a multi-terrain route comprising of a mix of grass tracks and forest roads through the private grounds of Hursley Estate and Ampfield Woods. John Quayle, finished in 87th position in a time of 46:48 and Brenda Topliss, was 228th overall, 2nd in her age category with a time of 53:56.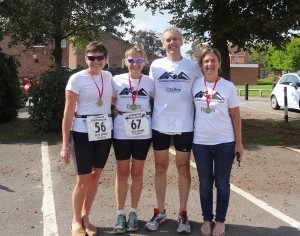 Elsewhere, a further four Romsey Runners added a swim and cycle before their run to complete the Petersfield Sprint Triathlon. Organised by the Petersfield triathlon club and held in the grounds of Churchers College, Petersfield the triathlon consisted of a 400m pool swim followed by a challenging 25k bike ride and a 5k run to finish. The conditions on the day were blustery and cool to start with and around 300 competitors took part. Alice Lane completed the course in an overall time of 1:44:30 (9:46 swim, 1:04:22 bike, 27:01 run) followed by, Derek Kelly 1:46:05 (9:06 swim, 1:03:19 bike, 30:00 run), Julia Abab 1:55:14 (12:52 swim, 1:08:43 bike, 29:02 run) and finally, Liz Slade 2:05:31 (12:25 swim, 1:16:13 bike, 30:15 run).
And finally, Annie Tomlinson (still not running because of injury) completed the ladies only Cycletta bike event starting and finishing in Beaulieu. Annie finished 5th in the Macmillan fund raising cycle event in the 'Challenge' distance of 72km, in 2:50 and has raised just over £200 pounds for Macmillan Nurses.