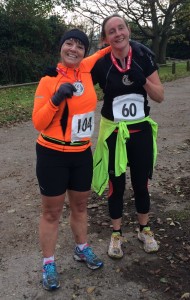 Julie Shanker and Francesca Hough completed the Riverside Marathon in Walton-on-Thames on 22nd November.
The route is run along the Thames River towpath between Walton-on-Thames and Hampton Court with the runners of the full marathon having to do four laps.
Both ladies finished together in a time of 4:51:55. Well done to both!
Last month, on 11th October, Steve Reed, Paul Burnage and Brenda Topliss ran the Chalke Valley Challenge 10k in times of 44:52, 46:00 and 54:11 respectively. This race is run on quiet, undulating country roads through some magnificent scenery, starting and finishing at Broadchalke sports field south west of Salisbury. A small, very friendly race, it comes recommended, albeit not for PBs. Congratulations to Brenda for winning her age category.