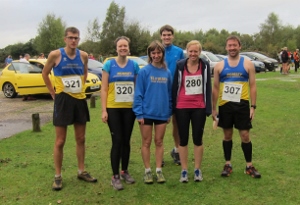 The rain stayed away during the Minstead Stinger on Sunday. This local event organised by Totton Running Club starts at Ocknell Campsite, Stoney Cross in the New Forest. The undulating route takes runners on a 10 mile course made up of forest trail and track and throws in a stream crossing near the finish, guaranteeing wet feet all round.
Finishing in 3rd place overall and 1st Senior Male was Toby Burrows, he was followed by Neil Jennings 1:13:56, Stuart Cripps 1:28:48, Joanna Weguelin 1:29:01, Penny Jennings 1:31:53 and finally in little over 2 hours, Naomi Farrington.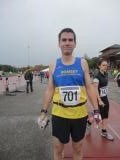 Slightly further afield, Stuart Liesnham completed the Abingdon Marathon in a time of 4:13:39. Starting and finishing on the track at Tilsey Park, runners were greeted by a number of spectators in the stand alongside the track raising sprits as runners completed the last 400 metres, making up for the intermittent rainy conditions. Many runners were cheered on and were awarded with a personal best.
Mark Stileman took part in the first Hampshire Cross Country League race of the season. The race was held at Reading and Mark finished 10th M40, 72nd overall.
And finally, 3 RRR's participated in the Thruxton Mass Attack Duathlon. The event took place on the Thruxton race track and comprised of a 5km run, 35km bike ride and final 5km bike ride using the wide, smooth tarmac track – free of all motorised traffic, just those on foot and bike to be negotiated. Tamatha Ryan 1hr 42mins, Chris Stocks 1hr 44mins and Becky Tovey 1hr 45mins.